Click here for the most comprehensive back splash building guide ever compiled.
You Got It! Glass tile back splash Woodstock/Milton, GA.
A glass back splash is the epitome of modern design. It's easy to clean, looks sharp and will get you your best ROI after a sale. It comes at an added expense because of the technical nature of the install. We silicone caulk the entire perimeter of the splash creating a soft joint for movement, sand all edges, we are wary of blown out paper backing, and we polish it to shine when finishing up! An experts touch!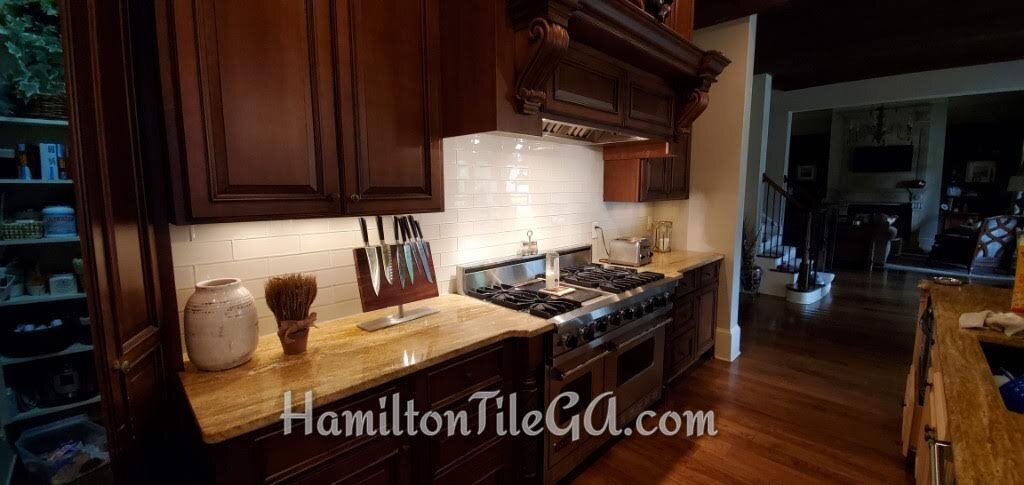 We offer the least expensive glass back splashes on the market because you will only have to do it once. These are highly technical installs that we are experts at and we have the receipts to prove it.
Hiring detail oriented, specialists: It means you have access to and guidance on products and services that you wouldn't have if you hired non-credentialed, hobbyists. Fine details like Flexcolor 3D glitter grout and matching silicone! Unbelievable looking with glass tile.
The five star google review speaks for itself:
"They returned phone calls. They started and finished the work on time. They did beautiful, high-quality work. They were professional and trustworthy. And they did it at the agreed-upon price. What more can you ask for?"
A beautiful natural stone, Herring bone back splash in Roswell, GA. We've all seen the cracked grout between the counter top and back splash. We solve that by using 100% silicone caulking at all plane changes instead of grouting it in tight, which will eventually CRACK! Click here to learn more.
The regular growth of our portfolio is a sign that we are a business that values conscientious, consistent and customer focused service. This is a bit of artisan tile work done in East Cobb, GA for a design oriented homeowner.
Hamilton Tile has you feeling secure by covering your counter tops, covering your floors and doing a thorough clean up. Not to mention going above and beyond, installing you a one of a kind back splash in your home.
Be the talk of the neighborhood with a professionally installed glass back splash.
What's not to like about this back splash in Woodstock, GA. Truly accentuates the décor in this area.
A before and after collage with Jason hard at work and Ben on photography detail! Does that Ben guy ever WORK?
Another back splash in Woodstock, GA.
A straight herringbone pattern.
Stacy's backsplash finished 11/15/16 in Marietta. Mapei full silicone caulking with glass inset into natural stone.
A 100lb piece of granite set into the wall behind this stove. Quite a project, and Kerdi board was expertly utilized once again.
A backsplash for LPK Construction.
We are upgrading backsplashes all over the Atlanta area by using dust free, water proof Kerdi board instead of antiquated cement board and sheet rock.
We did the stonework, backsplash, and accent wall in the basement seen here. 2/16.
Will the competition protect your property during an installation and leave your home better than when they arrived? A true finish guy lives by the creed "Would I pay for this?"
If you like the centerpiece and you are interested in a removable splash, please go to Kitchenpallette.com. They have many themed splashes.
A very unique backsplash by referral from the electrician.
These brick walls are all the rage and add an incredible visual touch to your indoor space. We are ready to put one in for you!